Construction Starts on Bridge to Connect Downtown Louisville and Jeffersonville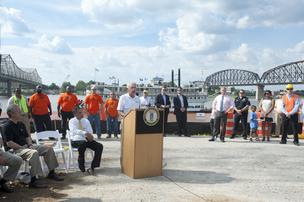 After a very long multiple year wait, the groundbreaking took place on the bridge that will connect downtown Louisville and Jeffersonville. The governor, community leaders and many residents were on hand to witness the beginning of the construction of the bridge. The downtown crossing is half of the $2.6 billion Ohio River Bridges Project.
The other half is an East End bridge that will connect Prospect Kentucky with Utica, Indiana. Both bridges are scheduled to be completed in 2016. The new downtown bridge will carry six lanes of northbound Interstate 65 traffic, working in tandem with a revamped Kennedy Bridge, which will be converted to six lanes of southbound traffic. The downtown bridge project is expected to employ about 500 people.