2013 Louisville Family Halloween Events
Posted by Brad Long on Wednesday, October 16, 2013 at 10:51 AM
By Brad Long / October 16, 2013
Comment
Halloween is not just a holiday, but a complete holiday season beginning on October first. The leaves begin to change and the weather begins to cool, setting the scene for a spooky Halloween. Throughout the month of October, the Louisville area is filled with a variety of local Halloween events to thrill and excite the entire family. While residents already know about the World's Largest Halloween Party at the Louisville Zoo during October, there are many other family focused events during the Halloween season! Be sure to grab your calendar to mark the dates for your favorite Halloween events!

Corn Mazes

Corn mazes are a basic staple of the Halloween season. Most are suitable for the whole family, with some labeled as 'haunted,' they may be more suitable for the older kids.

FFA Field of Terror is a 6.5-acre corn maze located behind Thomas Nelson High School in Bardstown, Ky featuring scary haunted scenes. Hayrides are available to guests both before and after the corn journey. This maze is an annual fundraiser put on by FFA Thomas Nelson chapters and Nelson County. The price is only $5 per person, with discounts available for groups of ten or more. This attraction received 10 out of 10 pumpkinheads at www.louisvillehalloween.com. Phone: 502-349-7010 or 502-349-4650.

Deere Farms Corn Maze is an ideal maze for the whole family that runs from September 21st – November 3rd. Labeled as 'not haunted,' this maze leaves you to find your own way out without the added thrills of ghostly scares. Located in Lanesville, Indiana, this established attraction received 7 out of 10 pumpkinheads. Newly added events include pig races and The Great Pumpkin Run. MazePlay games are a great highlight for children and adults of all ages. Admission price is $5 for children 3-12 and $8 for ages 12 and up. Parking is free. Phone: 812-952-1629.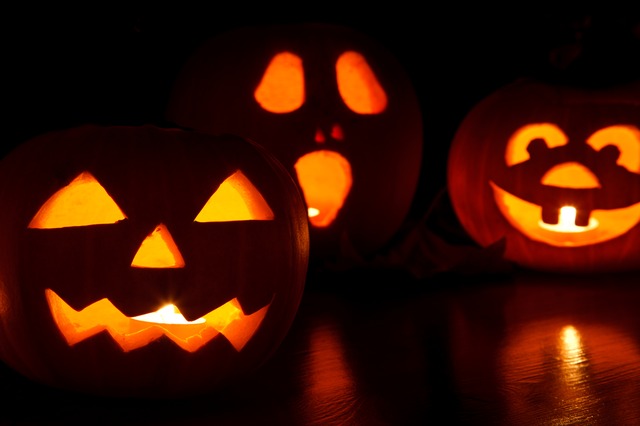 The Cornucopia Farm Corn Maze, located in Scottsburg, Indiana, from September 14th through November 2nd, is perhaps the most family friendly Halloween attraction in Kentuckiana. Offering more than just a corn maze, there is a super straw house, a giant slide, pumpkin picking, face painting, horse rides, Big Trike Track, and a petting zoo are just some of the attractions to those with a general paid admission. Children under 3 are free, children 3-12 and seniors over 65 are $6, and all others are $8 each. The attraction is family-focused and is especially great for families with children. Phone: 812-752-6694 Email: info@cornucopiafarm.com.

Haunted Family Events

Pirates of PRP, a 'yard haunt,' this Pleasure Ridge Park attraction is inspired by the Walt Disney World ride Pirates of the Caribbean. Handmade props are beautifully designed, and include mermaids, a pirates' bar, and the ships crown jewel. This FREE attraction is fun for all ages. It is operated throughout the entire month of October. 9007 Seaforth Drive, Louisville. Received 8.3 pumpkinheads. For more info, visit www.facebook.com/PiratesofPRP.
Jack-o-lantern Spectacular makes its debut this year! Held in Iroquois Park October 10 through November 2, this attraction boasts over 5000 carved pumpkins lining a quarter mile trail from dusk until midnight. The 'art show' attraction prices are $12 for adults and $9 for children under 12 Sun-Thurs. Friday and Saturdays prices are $12 for children under 12, $13 for seniors 62 and over, and adults are $15. Advance ticket purchases are available. Phone 502-363-7766 JackoLanternLouisville.com

Boonanza is perhaps Louisville's most family friendly indoor Halloween event hosted Saturday October 26th and Sunday October 27th. Held at the Louisville Science Center, kids and adults get to play in 'pumpkin guts' and visit the 'glow in the dark laboratory.' Great prizes are awarded to the participants of the mystery detective lab. It must be noted that this is a children's event. Absolutely no scary costumes or masks are permitted in the event. Admission is free for members, and non-members pay for each attraction individually. Phone: 502-561-6100. www.kysciencecenter.org.

Make a Halloween Mask is a unique event to Louisville, sponsored by the Museum of American Printing House for the Blind on October 19th from 10:30am – 12:30pm. This is free workshop for sighted children designed to teach them how to convey emotions through textures and shapes, in the way that non-sighted children do. Museum staff leads the group to make friendly and scary masks, plus headdresses using tactile materials. Registration is required by October 17. Phone: 502-895-2405 Email museum@aph.org or visit the Saturday Fun section at www.aph.org/museum/programs.

If you're looking for family friendly events in the Louisville and surrounding areas, the mix of urban and rural settings offers everything for full enjoyment of the 2013 Halloween season.