A Christmas Day walk along Louisville's Main St
Posted by Brad Long on Monday, December 26, 2011 at 1:07 PM
By Brad Long / December 26, 2011
Comment
As Louisville grew from just a stop along the Ohio River to portage around the falls, to one of the largest western cities in the new United States, it developed its street system, much of which remains the same today as it was 200 years ago. As in most cities, Louisville's retail, wholesale and socializing street in the central business district was named "Main St." and this was where the majority of the businesses involved in this trade were located.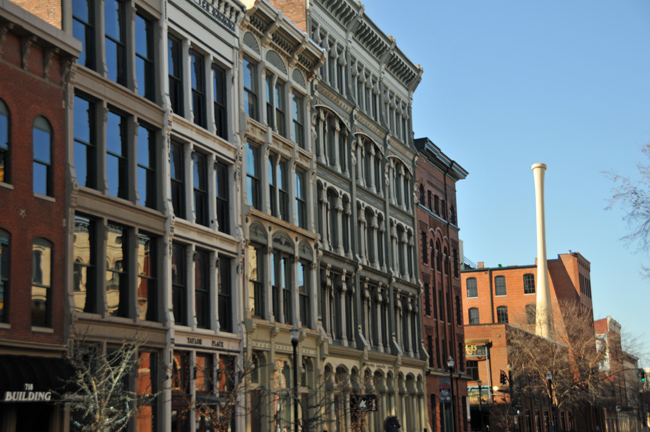 We are fortunate in Louisville to have many of these 19th century buildings along Main St. still intact as opposed to the parking lots and wastelands created along many other streets in the name of "Urban Renewal". When walking down Main St. always look at the details in the old buildings and you may find a bit of history of Louisville's distant past. Many of the businesses that constructed these wonderful buildings had their company's name, prominently attached to the structure. Most of these companies are long gone, however with a little research you can find out some interesting facts about our Louisville history.
An example of this is the Bamberger Bloom & Co. building on West Main Street, described as
follows in the 1882 book: History of the Ohio Falls Cities and Their Counties – Louisville "In the year 1872 the firm, which in the meantime had added several partners and had changed its name to Bamberger, Bloom & Co., moved into its present beautiful quarters, having found it necessary to erect a building especially adapted to its colossal trade. No description of this structure nor further comment upon the business are necessary , as the firm of Bamberger, Bloom & Co., its house, and its business are known to every citizen of Louisville, and are brought to the attention of every one who visits the city."
After the failed 1848 German Revolution, many thousands of revolutionaries migrated to the United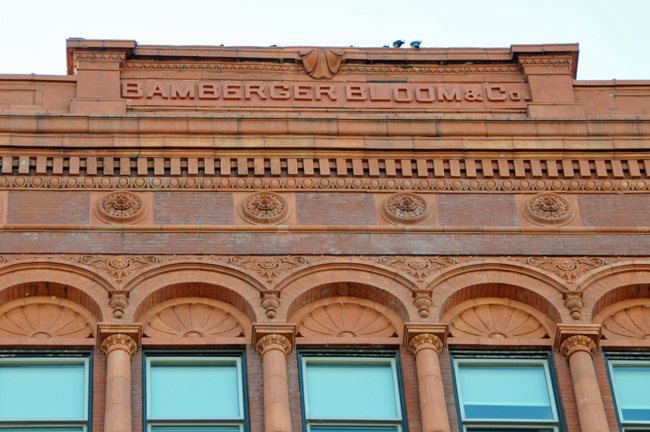 States due to their commitment to freedom and liberty. These migrants were extremely well educated and included: scientists, teachers, lawyers and journalists. Nathan Bloom was one of the newly arrived Germans and began his career in the US as a migrant peddler, going from town to town, selling what he could carry with him. After several years he opened a general store in Owensboro, KY. In 1852 Bloom moved to Louisville with his brother in law, Julius Bamberger, and together they founded the wholesale dry goods business Bamberger, Bloom & Co.
The company flourished for years and allowed peddlers of the day to start many thriving businesses in the fast growing cities and towns of the new western states and territories, such as Kentucky. Long regarded as one of the most solid financial institutions in Louisville - It caused much surprise when the company filed for bankruptcy in October of 1895. The owner stated: "The failure is due to large losses in the South and to the fact that for some years past a considerable portion of the best part of the firm's Southern business has been taken from it by wealthy and enterprising St. Louis rivals, while other portions have gone to Chicago competitors."
It would be fascinating to learn if any of today's retailers may, in some way, owe their existence to credit issued by, or merchandise bought from, this early Louisville business – Bamberger, Bloom & Co.
Nathan Bloom & Julius Bamberger are both buried in The Temple Cemetery located at 2716 Preston Highway along with many of their descendants.
A bit of Louisville Historical Ramblings from The Brad Long Real Estate Group who proudly have the opportunity to sell Louisville Real Estate in our wonderful city.