A Mellow Mystery
Posted by Brad Long on Thursday, July 5, 2012 at 2:01 PM
By Brad Long / July 5, 2012
Comment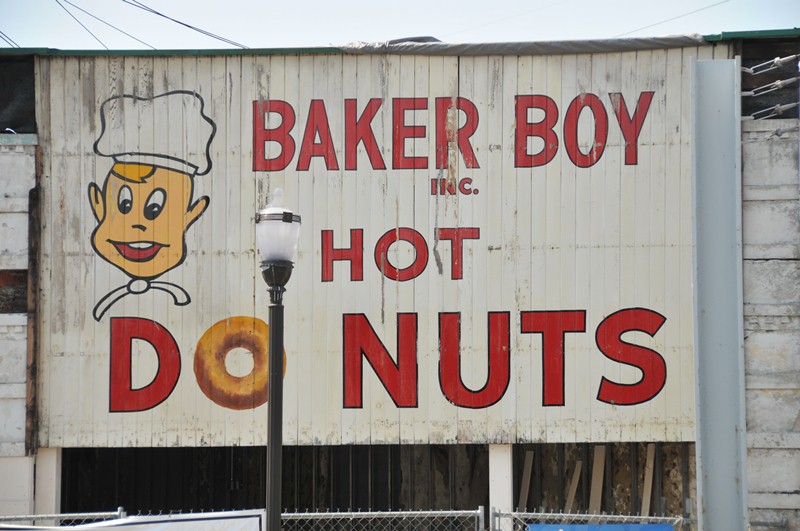 A true mystery lies in the heart of the St. Matthews community and it has me digging for clues. While doing construction on the building that held the beloved Dutch's Tavern and will be the newfound home of the Mellow Mushroom Pizza Joint, a bewildering sign that has become my nemesis was discovered. The sign reads "Baker Boy inc. Hot Doughnuts." You would assume there was a doughnut shop there some years ago, but, no. No such place ever existed, no Baker Boy Doughnut Shop to speak of. I was bewildered. After doing a little digging I came across an article by WHAS11 news with the title "Historic Mystery in St. Matthews Appears to Be Solved" and finally I think I am going to get my answers. In the article they explain the establishment was a soda shop that changed to a tavern after prohibition. I read on. That's it? So where do the doughnuts come into play? Where's the rest of the article? Where is the answer to my mystery? I am stunned. I guess I have to keep on digging, and I will. By this point I think I have built up in my head that it is some great mystery I am trying to solve. I am not basing myself in reality anymore. I remind myself I am looking in to a doughnut shop, or a soda shop that sold doughnuts, I bring myself back down.
I stumble across a message board where members are talking about family members that worked at the soda shop at the time. I chime in to the conversation. We are talking about the possibility of a doughnut shop going unnoticed and the lack of that possibility. After much discussion, we come to a conclusion that the sign must have been advertising for doughnuts sold within the soda shop. This makes sense, I am comfortable with this deduction. I have spent too many hours scowling the internet and wracking my brain over doughnuts and baker boys. This is a logical and simple conclusion. My mystery in St. Matthews is solved and although it wasn't an exciting, mind-blowing finale, I will take solace in the fact that it is indeed concluded. I apologize if you are as let down as I was, but not every mystery can turn out so exciting. I will try to report on another one of Louisville's great mysteries next time with a more thrilling outcome.
Mellow Mushroom is set to open it's doors the first week of August according to the Courier Journal. This funkadelic pizza chain offers a delicious menu including pizzas, calzones and salads, along with a hefty beer list and plenty of on tap options. Mellow Mushroom participates in things like Beer Club and Trivia Nights, so check with them when they open to see how you can participate. After visiting the Lexington location I am eager to return and recommend it highly. Mellow Mushroom plans on conserving the Baker Boy Sign in it's entirety and including it as part of their restaurant decor.
To find your St Matthews dream home go to St. Matthews Homes for Sale for all of the most current listings.