Like to Ride? Bicycle Magazine Ranked Louisville 21st in America's Top 50 Bike-Friendly Cities
Posted by Brad Long on Tuesday, March 29, 2011 at 6:49 PM
By Brad Long / March 29, 2011
Comment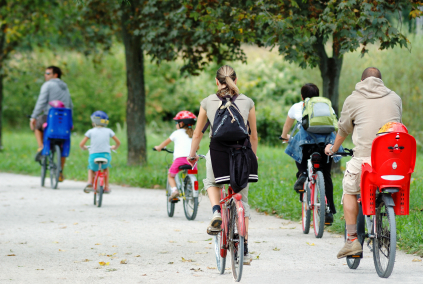 Cycling has always been a part of Louisville's culture. In 1890, Louisville formed a cycling club called the Louisville Wheelman which led structured rides around the city. Today this club, currently called the Louisville Bicycle Club, is one of the most dynamic and advanced cycling clubs in the country. Their website is very informative and has any and everything you would need to know about cycling in Louisville.
Louisville has developed many cycling organizations over the years to promote and develop this sport in the city. Bike Louisville is a community program to progressively make Louisville even more bike friendly. In 2005, Mayor Abramson held Louisville's first annual bike summit which set out a plan for Louisville to be awarded the gold-level status as a cycling city by 2015. In order to reach this cycling status the city will be judged in five categories and demonstrate advancements in each. The categories include engineering, education, encouragement, enforcement and evaluation and planning. At this rate, by 2015 Louisville might be in the top 10 in the nation of the best cities for cycling.
Louisville has cycling options for every type of rider. Whether you want to ride around your neighborhood, ride to work or in one of the cities lovely parks, Louisville works hard to give its riders safe and diverse options. A large reason Louisville is a premier city for cycling is the abundance of bike lanes and paths currently in use; there are many paths currently under construction as well. Louisville also has organized rides throughout the year such as the Memorial Day and Labor Day Mayor's Hike and Bike. Last year over 7,000 people participated in this event.
The city of Louisville also contains some smart and savvy bike shops for its cycling citizens. St. Matthews in particular is home to some of the local favorites like Scheller's Fitness and Cycling off Shelbyville Road, Bicycle Sport on Breckenridge Lane and Mountain Bike Depot in the new Westport Village Shopping Center. Cycler's Café located off Lexington Road in the Highlands is a unique shop in that it is also a diner/deli which offers delicious homemade meals like burritos, BBQ and salads. After a long weekend ride, stop into the Cycler's Café, check out their gear and enjoy a quesadilla and cold beverage on their deck.
With spring just around the corner, this is a great time to learn more about cycling in Louisville and why Louisville is the 21st best city in the nation for cycling. The Bike Louisville page on the Louisville.gov site is full of helpful information, maps and routes, safety tips, and cycling events. Ride the City of Louisville is another helpful tool to map the safest bike route for your next ride. With all the cycling opportunities the city of Louisville has to offer get ready to dust off your bike, strap on your helmet, get out on the road and enjoy!
Search all Louisville Homes for sale by area, year built, square footage or any other detail on Louisville's superior MLS search engine.