Louisville's annual Hike, Bike & Paddle
Posted by Brad Long on Friday, August 31, 2012 at 3:19 PM
By Brad Long / August 31, 2012
Comment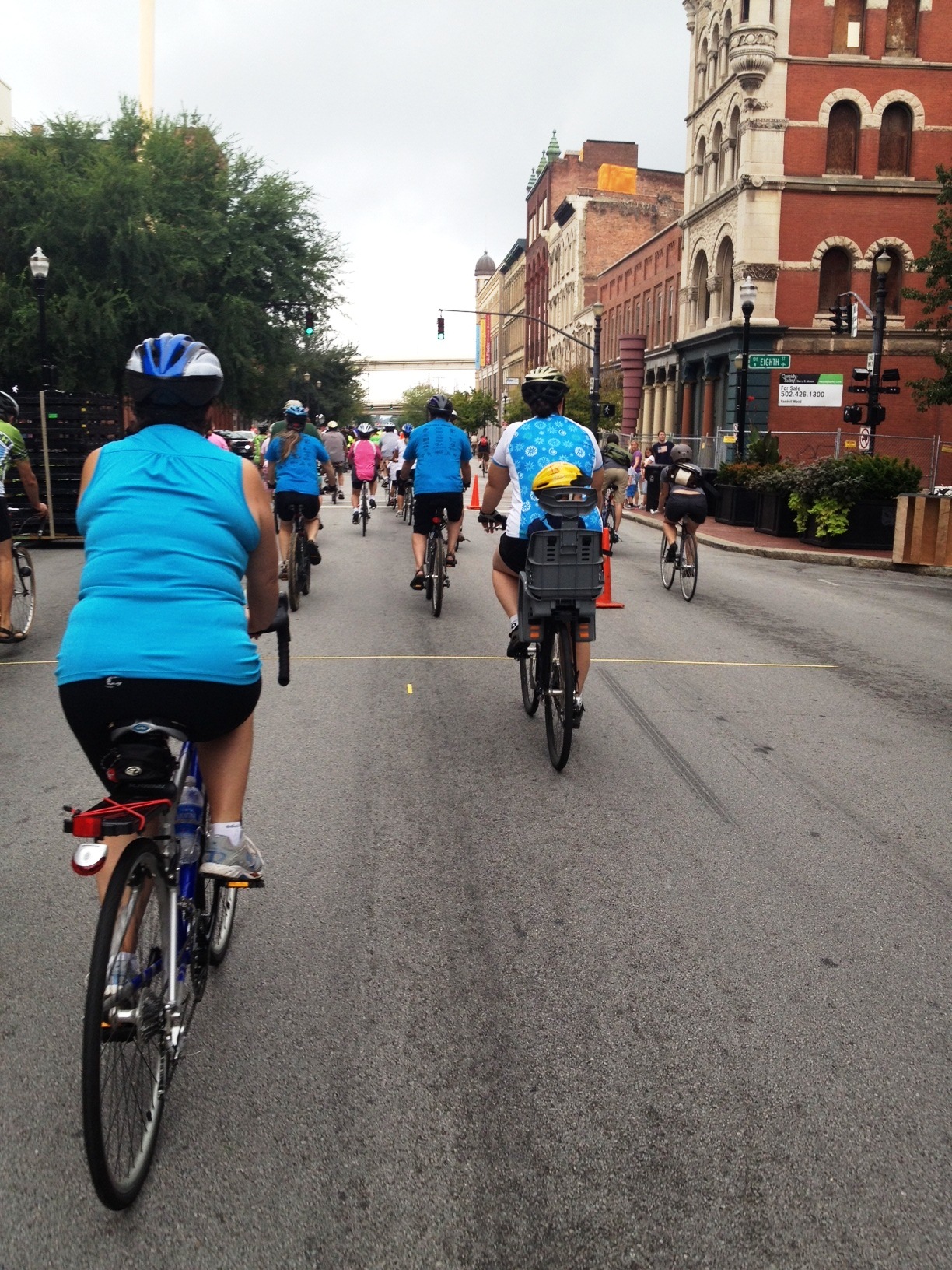 If you don't know what to do with yourself on your day off of work on Monday, why not participate in the Mayor's next Healthy Hometown event, the Hike, Bike & Paddle? You can ride your bike 15k then walk 5k and canoe or kayak 3k. I have to say, out of all the triathlon type events around town, this one does sound the most appealing to me. The Hike Bike & Paddle is open to athletes of any level, families, and even dog walkers.
If you are interested in participating there are some things you need to know. Participants need to meet at the Great Lawn at the Waterfront by the dancing fountains. The walk starts at 10:00am but there are plenty of warm-up opportunities earlier in the morning. Starting at 8:00am there will be yoga warm-ups on the Waterfront with Taylor MacFarlane of Sunnyside Yoga. Also at 8:00am there will be Tai Chi, Breathing and QiGong Exercises, a Zumba Demo, a hot yoga demo, and an Ashtanga Slow Flow Standing Series with Krist Fulkerson, the owner of Yoga on Baxter. From 8:45am-9:20am they will be offering an Anusara Cool Down class, various classes of Venu Vanaparthy including eye exercises and meditation, Thai Chi, Laugh Yoga, and Fierce Fitness. I would suggest even if you don't want to participate in the race, to come out early and take advantage of all the free classes! There are some unique classes that I have never heard about, including laughter yoga!
The hike portion of the walk will start at Waterfront Park and go East toward Beargrass Creek and back to Waterfront Park. Because it is not a race there is a longer option available. You can download both maps on the walk's website.
The bike portion of the race takes you down into the West side of Louisville to 31st Street, with turn around options available. There are seven water stops along the bike portion and it ends back at the Waterfront.
The paddle portion begins at Harbor Point at the Waterfront. Boats will be dropped off at 7:30am at the Green parking lot, which is located underneath I-64 at Whitherspoon. Canoes and kayaks will be available to rent from River City Canoe and Kayak. You can find more information on boat rental by calling them at 502-384-3737. The paddle portion will take you through Beargrass Creek, which as Louisvillians know, is not always the cleanest waterway. Pay attention to the Green, Yellow, and Red rating the authorities give the creek that day and take the proper precautions. Metro Louisville's website gives a safety checklist to look at before you go out on the water, you may want to check it out.
Monday's Healthy Hometown event is going to be a lot of fun for the whole family. It's going to be a no pressure, outdoor adventure, so take advantage of it! For more information on the event go to the Metro Louisville's Hike, Bike, & Paddle website at: http://www.louisvilleky.gov/HealthyHometown/HikeandBikeMHHM/.
Search all
Louisville Real Estate
for sale by area, price, year built, square footage or any other detail on Louisville's superior MLS search engine.