My Night at Akikos
Posted by Brad Long on Saturday, August 4, 2012 at 9:53 AM
By Brad Long / August 4, 2012
Comment
My body is still recovering from the celebratory outing I put it through this past weekend. For my cousin's 25th birthday, she invited me to join her for a night out with some of her girlfriends, and I agreed. I figured dinner and drinks with the girls would be just what I needed. It turned out that she had something a little more…creative, in mind. After meeting at my house for several glasses of wine, my cousin insisted we head up the street to Akikos Karaoke Bar. I have lived in Louisville my entire life and had never been to Akikos before. Some of you reading this may be thinking that by now, Akikos is old news, but to me, it was a brand new experience, and to those who have not been, or have not heard of Akikos, it is well worth me passing along the details of my night.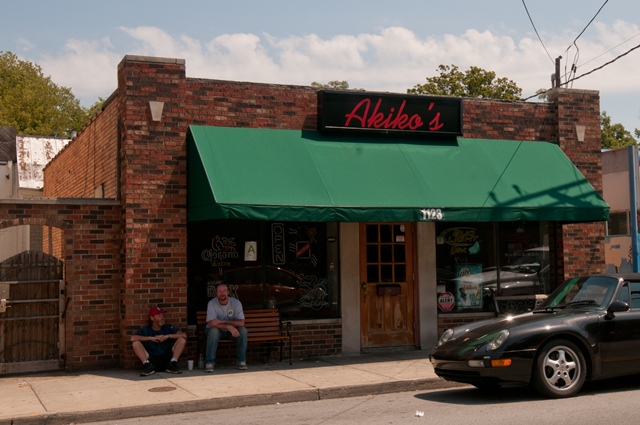 As a parent of two young boys, I don't go out to the bars much. A night out for me usually consists of either a date night with my husband or dinner with the girls. Don't get me wrong, I enjoy my occasional glass or two of wine, martini, or bourbon and coke, but a full night on the town are few and far between.
Akikos is rather small, with the front room consisting of the bar itself and a pool table, and the back room acting as the karaoke space. Upon entering the bar, we naturally stopped in the front room first, loaded up on drinks, and then headed on toward the back. We walked up about six steps and entered the dark, black lit room, filled with chairs and small tables, a DJ booth in the corner and a small platform stage with two microphones. I immediately grabbed the table in the corner where I felt I could hide if I needed to, and pulled two other tables close by so that we took up a good chunk of the room. Sitting in the corner allowed me to take in the entire room, observing all the different people that come to a karaoke bar at 11:00pm on a Saturday night. Akikos was probably the most diverse bar I had ever been to. Folks of all ages, races, and social and economic backgrounds were all gathered together, enjoying their surroundings.
The Karaoke itself was everything I expected and more. There were those singers that had excellent voices, and those whose voices were less than desirable to hear. There were singers who thought their voices were amazing, and were in reality, less than stellar, and those who were obviously just there for a good time and to entertain the crowd. For the most part, the feeling in the room was encouraging and respectful, although there was the occasional bad apple who was hideously rude to those singing. On the whole, the audience made it easy to get up on stage.
Unfortunately there were a few negatives. If you are in the mood to sing song after song, I would recommend renting a machine and having a party at home. It took about an hour and a half between the time we requested a song and actually sang it. I'm not sure if the DJ was playing favorites or if he was really backed up, but they have got to do something about that system. You also have to buy a drink to sing. I obviously didn't have a personal problem with this because I had a drink in my hand all night, but there were many people that weren't as interested in the booze that wanted to enjoy themselves.
Akikos is located at 1123 Bardstown Road in the Highlands, across from Dragon Kings Daughter and Dittos. They are open 9:30pm-4:00am daily and have recently started serving a full bar. If you have never been to a Karaoke bar before, go into it with an open mind and a forgiving heart, and you may want to have a few cocktails before you go.
Ilyse's Louisville
Search all
Louisville Homes
for Sale
by area, price, year built, square footage or any other detail on Louisville's best MLS search site.