No Mo Fro-Yo
Posted by Brad Long on Wednesday, July 18, 2012 at 2:57 PM
By Brad Long / July 18, 2012
Comment
Am I the only one that is missing Starlight Frozen Custard? With these past couple weeks of triple digit heat, by body has been aching for some good Summer treats and it is yearning for one of my forgotten favorites. Starlight was around before we were bombarded with do-it-yourself "fro-yo" spots, that have become the hip new thing, but couldn't make it after the new trend took over. The abandoned Starlight sign is still standing at the corner of Shelbyville and Hubbards Lane teasing my taste buds every time I drive by. Although I don't feel like anything can replace my beloved frozen custard, I have to admit, these frozen yogurt stores are slowly starting to win me over.
I visited my fist do-it-yourself frozen yogurt store while visiting my brother in California several years ago. I thought it was a cool idea, I liked the fact that I was in charge of my dessert, but thought it was for the California health freaks who didn't want to eat too much ice cream. The first Fro-yo store I saw in Louisville was Sweet CeCe's on Bardstown Road and I knew immediately it would be popular. Something hip, cool, and different? Louisvillians love that! Not only was I right, but I was sucked into the Sweet CeCe's trap. Starlight was closed down, I was pregnant, and living two blocks away, there was no hope for me.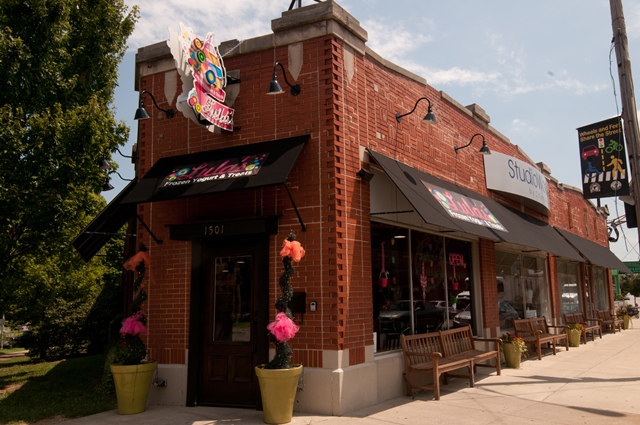 Since Sweet CeCe's (Now Lula's) opened in 2011, nearly ten other frozen yogurt places of the same design have opened there doors in the Louisville area. Do we really need all these fro-yo joints? Are they staying busy? I decided to investigate. I traveled down Bardstown Road to two of the more popular frozen yogurt spots that have been competing with each other from the beginning. Cefiore was the first frozen yogurt shop to dawn the do-it-yourself cap, followed by Sweet CeCe's (now Lula's) which opened up right across the street.
I went in to Lula's first to ask some questions. It was a Thursday afternoon when I first started my research and I was the only one in the store. My 2 year old son and I shared a vanilla cup will rainbow sprinkles, Oreo cookies, and strawberries (we like to keep it simple). I asked the girl who was working how busy they were and she looked at me with a look of dissatisfaction. She went on to say that they were busy in the evenings but nothing like they used to be. She told me that the owners decided not to renew their franchise contract and are now privately owned. Apparently, when they decided not to renew their contract, they were the second most successful Sweet CeCe's Franchise, next to the original. At one point it was working for them, there were lines out the door 24/7. So what happened? Was it the competition or is Louisville just over the excitement of the "newest big thing?" I think it's a little bit of both.
After getting some information from Lula's, I crossed Bardstown Road to Cefiore. I was immediately impressed with the freshness of the toppings and the unique menu. All of the fruit options, and candy options looked very appetizing and the bubble tea and snow ice options were an interesting twist to the menu. I decided to try a bubble tea as I never had indulged in one before. I ordered a green tea bubble tea and watched the woman behind the counter go to work as if doing a science experiment. Not only was it fascinating to watch, but drinking it after, was equally as entertaining. I almost forgot while in Cefiore, that again, I was the only customer because the woman working behind the counter was so engaging and friendly, she even insisted on holding my 4-month old son.
So what did I take away from this "research?" Well, I'm not sure if there is a place for nearly ten frozen yogurt places in Louisville. I have been to others around town, and they are all pretty much the same. Cefiore is offering something unique and their ingredients are fresher than other places I have seen. These are the things that will keep a place in business. My prediction is that in the next year, we will be seeing a lot less fro-yo around town.
Ilyse's Louisville
Brad Long is a real estate Broker based in Louisville, KY. You can contact him and search for Louisville Real Estate through his website.