Urban Mistake in The Louisville Highlands?
Posted by Brad Long on Monday, July 9, 2012 at 9:40 AM
By Brad Long / July 9, 2012
Comment
I have to admit, when I saw that they were putting an Urban Outfitters just two blocks from my home in the Highlands - I had a flood of emotions running through my head. I was excited of course, I think that was the biggest emotion; I am FINALLY, not going to have to drive to Cincinnati every time I want to find a funky pillow or a fun sweater! And then of course the second emotion came bouncing into my brain, the guilty one, I have responsibilities; I can't have an Urban Outfitters so close to my house! That's way too tempting! Oh boy, I am an adult, I can manage this, I will be ok.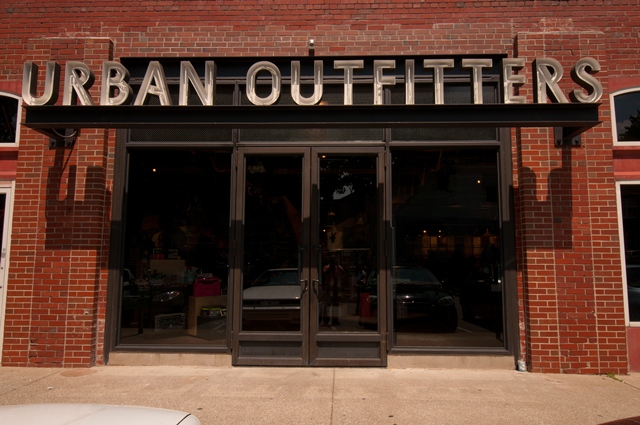 Recently however, something has surfaced that may make it easier to avoid the store that would usually haunt my dreams and tempt me in to buying a pair of earrings or a clutch I didn't need. In case you don't know where in the World I am talking about, the Urban Outfitters is replacing the Blockbuster in the Tyler Park Plaza on Bardstown Road in the Highlands. Tyler Park Plaza is made up of Highland Coffee, the Knit Nook, and soon to be Urban Outfitters. Highland Coffee is one of my favorite coffee shops in town. My husband walks up there a few days a week while I'm slowly getting out of bed because for some reason he thinks that's easier than brewing it at home, but we won't get into that. Anyways, we love Highland Coffee, as do many people in Louisville and especially the Highlands do. Highland Coffee has been in business since 1999 and is proudly locally owned. They serve Organic fair-trade coffee, and gluten free desserts, and in my opinion make some of the best lattes in town.
Driving down Bardstown Road a couple weeks ago, I noticed Urban Outfitters' new sign, replacing the sign that was for Highland Coffee and the Knit Nook. At first I didn't think too much about it, distracted by the chopped up words on the sign. I was bemused at the lack of signage for my beloved Highland coffee. The bullies had pushed them out. My blood began to truly boil after I read the piece that the LEO wrote on the subject. Now I am really beginning to understand what is going on. The LEO got in touch with Greg and Natalie Hofer, the owners of Highland Coffee and they explained that they have been trying repeatedly to contact Urban Outfitters about the sign and have received no response. Those goons! The worst part of it is the only contact they have had with Urban Outfitters is when they came into the coffee shop with a stack of applications for their employees…the nerve.
I know Urban Outfitters did not do anything illegal, they are probably paying the majority of the rent and they should probably get rights to signage, but there is such thing as common courtesy and they are not showing any respect. Highland Coffee will benefit from Urban Outfitters in the long run, but Urban Outfitters has already put a bad taste in all of our mouths before they have opened their doors and in a city that respects local business that goes a long way.
by guest blogger Ilyse McCormick
If you would like to find out more about the area and the homes for sale visit Highlands Homes Louisville - the most comprehensive search site available.